ARE MOFFETT TRUCK-MOUNTED FORKLIFTS AS EFFECTIVE AS TRADITIONAL FORKLIFTS?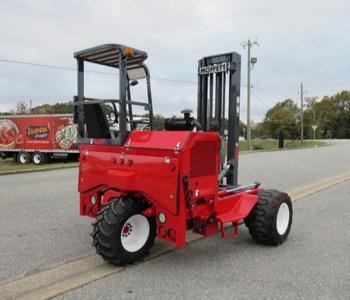 When it comes to forklifts, you generally have two options. You can either go with a traditional forklift or buy a Moffett truck-mounted forklift. At Bobby Park, we deal in both types of forklifts, and while both conventional and moffett forklifts are used to lift heavy materials, they have quite a few differences. Since traditional forklifts have been around for a long time, people often question whether moffett forklifts can be as effective as traditional counterbalance forklifts. At Bobby Park, we also get this question quite often from customers that arrive to buy a forklift. So for anyone out there who is wondering if truck-mounted forklifts can handle the heavy lifting? We are going to try to explain how both types of forklifts compare. Moreover, we are also going to help you decide whether a moffett forklift is right for you so keep reading.
Moffett Truck-Mounted Forklift Vs Traditional Forklifts Lifting Capacity
The lifting capacity of moffet truck-mounted forklifts and traditional counterbalance forklifts are roughly the same. However, moffett truck-mounted forklifts can lift weight more safely than counterbalance forklifts. That is because the lifting mechanism of Moffett truck-mounted forklifts allows them to lift heavier weights without losing stability effectively.
Moffet forklift lifting mechanism:
The moffetts we have for sale at Bobby Park come with hydraulic stabilizers that extend to the ground and provide stability when lifting weight. This means that unlike the counterweights in traditional forklifts that can cause them to roll forward when lifting weight, the stabilizers in Moffett allow the operator to lift in a more controlled way. The mast of the moffett forklifts can therefore be extended forward thanks to the stabilizers and when the load is lifted the mast is retracted and kept low to the ground when transporting it.
The lifting mechanism of traditional counterbalance forklifts: The lifting mechanism of standard forklifts hasn't changed since their invention. These forklifts have a counterweight at the back that allows the operator to lift the weight by balancing the load being lifted. Simply put counterbalance forklifts act like a seesaw when lifting weight. With that being said in case the weight being lifted exceeds the maximum rating, the counterweight will become ineffective, and the forklift will tip over.
Areas Where Moffett Forklifts Outperform Traditional Forklifts
So now that we know that moffetts are almost as effective as traditional forklifts in lifting weight there are also areas where moffetts outperform conventional forklifts. Moffets perform better in terms of durability and longer life span even if you are looking at used moffetts for sale at our park you can rest assured that they will serve you for years to come.
Another area where moffetts outperform traditional forklifts is safety features. Moffetts come with safety features such as roll guards, increased 360-degree visibility, advanced seatbelt mechanism, hydraulic stabilizers. This is the reason why moffets are responsible for very few accidents compared to traditional forklifts.
WHY CHOOSE US?
Full Parts and Service Shop
State of the Art Paint Shop
Body Work
Van bodies, reefer bodies, Flatbed bodies and Storage Containers available
Tuscaloosa and Jackson Locations
Ships anywhere in the United States