BENEFITS OF BUYING CRANE TRUCKS FOR YOUR MATERIAL HANDLING COMPANY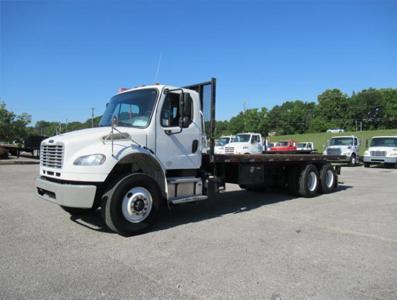 Material handling companies often have to move loads that are too heavy to handle for lift trucks and require some serious lifting power. Since renting cranes and moving them to each location where you need them can be costly and time-consuming, buying crane trucks is an ideal and cost-effective solution. At Bobby Park, we deal with used heavy-duty equipment, and crane trucks are just one of them. A crane truck can have a host of different benefits for a business; however, many business owners aren't sure what benefits a crane truck has to offer. If you wonder what advantages a crane truck can provide your business, then we suggest you read this article until the end.
Benefits of buying
used crane trucks
that we have avai
lable
for
sale
If you are looking for used crane trucks for sale, then chances are you require the portability and heavy lifting capacity that crane trucks are famous for. Not to mention, it is essential to know what benefits a crane truck can offer so you can make a better buying decision. So without further ado, here are some key benefits of crane trucks for your business:
Crane trucks are not as expensive as other cranes: When you compare crane trucks with tower cranes, you will find that crane trucks are cheaper than other crane options. We have crane trucks available for as low as $25000, which is a fraction of the price you would have to pay for a tower crane or other forms of cranes. The operational cost and the workforce requirements of crane trucks are not as high as a crane truck. So not only are you spending less to buy a crane truck, you will have to pay fewer bucks on keeping your crane truck operational compared to another type of crane.
Crane trucks allow for better space management: Since crane trucks are moveable, they can be moved if necessary to allow other equipment to pass through. On the other hand, fixed varieties of cranes will be at the same spot until the project is over, which can be an issue if you have to clear the site in case of emergencies. The boom truck can be easily moved and relocated to different site areas, making the site accessible.
All in one material handling tool: Lifting heavy weights is just part of the job. The next important step is to transport the weight to a new location. While conventional cranes can lift the weights, you need a separate transport truck to move the load to the destination. However, once you invest in a crane truck, you have an all in one material handling tool that can lift and move the load from one place to the other.
As more and more businesses realize the benefits of crane trucks, the demand for crane trucks has increased significantly. If you are looking for truck mounted crane for sale, just visit our website.
WHY CHOOSE US?
Full Parts and Service Shop
State of the Art Paint Shop
Body Work
Van bodies, reefer bodies, Flatbed bodies and Storage Containers available
Tuscaloosa and Jackson Locations
Ships anywhere in the United States