BENEFITS OF TIMELY REPLACING YOUR PIGGYBACK FORKLIFT?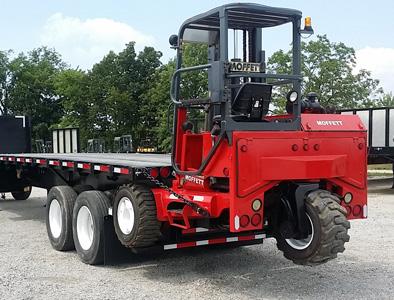 A Piggyback forklift is an essential tool for any material handling business that wants to transport and load/unload heavy items at various locations. At Bobby Park, we provide reliable yet low-cost used piggyback forklifts to companies looking for an easy and cheap way of handling heavy materials by quickly getting a Moffett. However, we have often noticed that businesses use their moffetts until they are completely worn out or useless before replacing them. While this strategy might seem effective on the surface as you get the most out of your piece of equipment, the more you wait to replace your Moffett, the more trouble it will cause for you due to failing parts. There are additional benefits of timely replacing your old Moffett with a better one, and in this article, we will tell you about all those benefits, so read on.
Timely replacing your Moffett truck allows you to get more work done using fewer moffetts
If you are using multiple moffett trucks to handle material, you might maintain and operate more Moffetts than you have to simply because they are in bad shape. Naturally, you will need more moffetts to perform the work that would typically take a lot fewer moffetts. However, businesses that replace their moffetts in time can get a lot more work done using fewer moffetts. When your moffetts are in good condition, they can handle more work in less time, which boosts your business's efficiency. Since a newer Moffett is also easier for the operators to use due to its better mechanical condition, the work's speed also increases when you replace your old moffetts. At Bobby Park, you can easily find an excellent example of high quality used piggyback forklift from the inventory we have for sale and keep your material handling business running smoothly.
You don't have to worry about your Moffett's maintenance constantly
An updated moffett fleet allows you to get things done quickly; it also requires less maintenance. We often get business owners that are worried about their moffetts constantly breaking down and needing costly repairs. That is usually because their moffetts have completed their useful life, and they are being used beyond their intended lifetime. When you replace your old Moffett and buy one from us, you get the peace of mind that the moffett has been well maintained, and therefore it won't cause major downtime for your business due to breakdowns.
Replacing your old moffetts in time helps maintain efficiency
Like any other vehicle with an engine, moffetts require fuel to operate and move material from one place to another. Like an older car with an old beat-up engine, a moffett that has been used for many years will lose its fuel efficiency. It will require a lot more fuel compared to what a moffett with a newer engine would use. So from the efficiency point of view, you would save a significant amount of money for your business by replacing your old Moffett in time.
Are you looking for a used Moffett forklift for sale near me on Google but can't find any reliable ones? Get in touch with us for all your heavy equipment needs.
WHY CHOOSE US?
Full Parts and Service Shop
State of the Art Paint Shop
Body Work
Van bodies, reefer bodies, Flatbed bodies and Storage Containers available
Tuscaloosa and Jackson Locations
Ships anywhere in the United States