BUYING A SEMI? READ THIS BEFORE YOU DO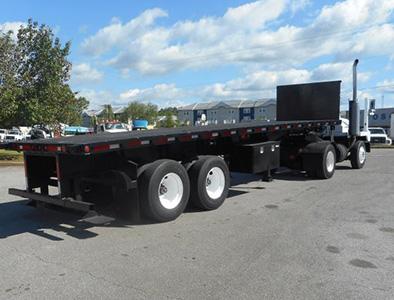 Many might think that the trucking industry is being affected due to the current COVID-19 situation. Then they forget that the transportation line is an essential service. The transportation of much-needed loads of medical and safety equipment cannot be done without the use of heavy load carrying trucks. Let's not forget the forklifts that load up the truck. Yes, the more casual trucking uses of importing regular goods might have had a slump but consumer essentials such as food items can never go down, in fact, has taken an upturn and will see a boom post-COVID as everyone rushes to fill the gap of not being able to get the luxuries they once had.
It's All About the Right Truck
They say that if you do not have the right equipment for the right job then you will not be able to complete it. The same holds for trucking you can't expect a regular ford truck to carry the load of a refrigerated trailer. Having said that you will need to know where to get the right truck for the job that you are going to be carrying out. If you're an experienced trucker or a company that already has a fleet, you must know that buying equipment from a trusted and experienced dealer. Be it a new truck or a used one, they need to be purchased either directly from the source or from someone who has and provides the sales, service, and parts. If you're situated in and around Tuscaloosa, Alabama then the best is Bobby Park Truck and Equipment.
They have a huge variety of trucks to cater to a variety of jobs and they have a large spare parts and services roster that can assist you with simple repairs to overhauling and customization of your rig. They have been in the truck business for over 4 decades so being experienced isn't short. The clientele practically comes from all over Alabama and some plan their route accordingly to make the stop to get their rigs repaired.
Somebody Say Moffett for Sale?
Bobby Park Truck and equipment also provide Moffett for sale. Some might say why a forklift that can be carried around would matter for a job as the place where they will be loading should have a forklift available. That may be true but a flatbed truck and a Moffett combination complete a whole transporting unit. It makes the rig self-sufficient the piggyback forklift can be used to load the goods on to the truck. It not only saves on cost but allows you to bargain better deals with your customers, you tell them if you don't have a forklift don't worry our rig has everything to load and transport your goods. So the next time you are out looking for a truck checking out a used piggyback forklift for sale should also be on your list.
I Said I Need a Trailer!
As your search for forklifts for sale near me gets done you might also consider depending on the type of truck you have that you need a cargo trailer. Now there are many types if you already have the most versatile flatbed truck. If you have cargo that consists of small units then an enclosed trailer is what you need for transporting them. If you have cargo units that require a certain temperature to be maintained the refrigerated trailers might suit your need.
WHY CHOOSE US?
Full Parts and Service Shop
State of the Art Paint Shop
Body Work
Van bodies, reefer bodies, Flatbed bodies and Storage Containers available
Tuscaloosa and Jackson Locations
Ships anywhere in the United States