GET THE ADVANTAGES OF THE 2-IN-1 PIGGYBACK FORKLIFT MOUNTED TRUCKS!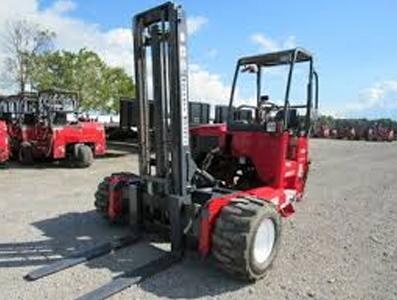 A truck with an attached forklift is one of the most versatile transportation machinery. The forklift is used to load cargo on to the truck that transports goods from one place to another. The regular forklift mechanism was first developed after WW2 and today it is recognized and used effectively all over the world. Now there is a newer and upgraded forklift called piggyback forklift; they are also known as a moffett. The term piggyback represents the way they are attached to and carried around on trucks.
Piggyback Forklift
Among forklifts, piggyback forklifts are said to be the best; this is because they can be attached to trucks and hence increase productivity. They allow goods and cargo to be loaded and unloaded at places where forklift are not available. At Bobby Park Truck and Equipment, we offer an extensive range of flatbed truck with piggyback forklift for sale. We offer them at competitive rates. Along with new trucks, we also sell used ones as well; the same goes for the forklifts. However, almost all are in good condition regardless of being used.
Piggyback Forklifts Mounted Flatbed Trucks
Any industry that needs the safe and efficient transportation of goods prefers the use of truck-mounted piggyback forklifts; it is the perfect combination of a lifting machine and a heavy cargo transport vehicle. These forklifts are usually used with a flatbed truck. A flatbed truck is a versatile cargo-carrying vehicle having a large and wide bed on its back. It is most commonly used for the transportation of large-sized goods that cannot fit in an enclosed space or closed container.
Summary of Benefits of Piggyback Forklifts Attached with Flatbed Trucks
Compared to traditional forklifts, truck-mounted piggyback forklifts are lighter and more compact
They don't take up valuable space of the flatbed truck, as they are mounted at the back.
This 2 in 1 combination can be operated by a single employee, saving on cost.
It eliminates the need for manual loading and unloading efforts, where forklifts are unavailable
The compact moffett can easily access unloading locations
Moffetts reduce the risk of accidents as they have no counterweight.
Without the need for loading and unloading dock, they can place pallets and other heavyweight materials anywhere
They offer complete independence to the drivers running them
They provide optimum maneuverability in residential areas and industrial sites.
One of their most remarkable benefits is that for the best operational systems, they provide the highest level of comfort to their operators so that one can easily benefit from them
Used Trucks for sale
For people who can't afford to buy a brand-new truck, Bobby Park Truck and Equipment company offers used trucks for sale. So, anyone looking for the most reliable heavy transport vehicles, forklifts or their combination at reasonable rates needs to visit our website. So do check out our dealership before you carry out a search for "used trucks near me."
WHY CHOOSE US?
Full Parts and Service Shop
State of the Art Paint Shop
Body Work
Van bodies, reefer bodies, Flatbed bodies and Storage Containers available
Tuscaloosa and Jackson Locations
Ships anywhere in the United States