HOW MOFFETT IS PIONEERING THE WAY FOR SUSTAINABLE MATERIAL HANDLING?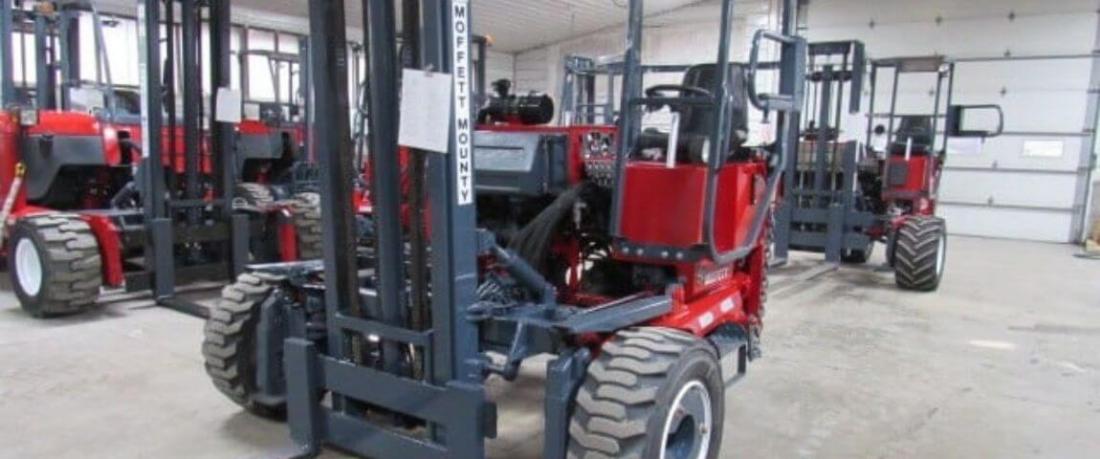 Forklifts are essential to material handling in many industries, from manufacturing and logistics to agriculture and construction. As businesses become more environmentally conscious, the demand for sustainable forklifts has increased. Moffett, a leading manufacturer of forklifts, is at the forefront of this trend, pioneering the way for sustainable material handling.
Forklifts have been around for over a century and have undergone many changes since their invention. Early forklifts were powered by steam, then gasoline and diesel engines, and more recently, electric motors. The demand for sustainable forklifts has increased as the world becomes more environmentally conscious. Moffett, a leading manufacturer of forklifts, is committed to sustainability and is at the forefront of the trend toward greener material handling. This article will explore Moffett's innovative approach to sustainability and how their forklifts are shaping the future of material handling.
Electric Moffett Forklifts
One of the most significant ways Moffett is leading the way in sustainable material handling is through their electric forklifts. Electric forklifts are cleaner and more energy-efficient than their diesel or gasoline-powered counterparts. Moffett's electric forklifts are powered by lithium-ion batteries, which provide longer run times, faster charging, and better performance than traditional lead-acid batteries. The batteries are also recyclable and don't emit harmful emissions, making them an excellent choice for environmentally-conscious businesses.
Fuel-efficient Moffett Forklifts
While electric forklifts are an excellent option for indoor use, they are not always practical for outdoor applications. In these situations, fuel-efficient forklifts can be a better choice. Moffett's fuel-efficient forklifts are designed with Tier 4 Final engines, which meet the latest EPA emissions standards. These engines are more fuel-efficient than older engines, which can result in significant cost savings over time. They also emit fewer harmful emissions, making them a better choice for the environment.
Recycling and Waste Reduction
Sustainability isn't just about the forklifts themselves; it's also about how they're produced and disposed of. Moffett is committed to reducing waste and recycling materials wherever possible. Their manufacturing processes are designed to minimize waste, and they recycle as much material as possible. When a Moffett forklift reaches the end of its life, the company takes steps to ensure that as much of it as possible is recycled or reused.
Moffett's Environmental Certifications
Moffett's commitment to sustainability is backed up by its environmental certifications. The company has achieved ISO 14001 certification, which is an international standard for environmental management. This certification recognizes Moffett's efforts to reduce its environmental impact, conserve resources, and minimize waste. It also demonstrates their commitment to sustainability and their dedication to continuous improvement.
Conclusion
Moffett is at the forefront of sustainable material handling, and their innovative approach to forklift design and manufacturing is shaping the future of the industry. From electric forklifts to fuel-efficient engines, Moffett's forklifts are cleaner, more energy-efficient, and emit fewer harmful emissions than traditional forklifts. The company's commitment to sustainability is also evident in its manufacturing processes and environmental certifications. As businesses become more environmentally conscious, Moffett's forklifts are well-positioned to meet the demand for sustainable material handling.
At Bobby Park, we hold on to our unique goal of providing truck users in America with an alternative that was not available on the market- used trucks. We set our standards high by providing very high quality and durable used trucks for sale at affordable prices, and we make sure that all our customers are happy at all times.
Under our used trucks category, you can find options in beverage trucks, flatbed trucks, crane trucks, cab and chassis trucks, conventional trucks with sleepers and without sleepers as well as other trucks. Find truck bodies only, box trucks, van trucks, yard spotter trucks and more. Browse through our super-sized selection of vehicles at Bobby Park and watch out for the recent ones we continue to add to our inventory!
Frequently Asked Questions
Q: How long does it take to train someone to operate a Moffett forklift?
A: The length of time it takes to train someone to operate a Moffett forklift can vary depending on the individual's experience with forklifts and the complexity of the specific model. However, typically, it takes a few days to a week of training to become proficient in operating a Moffett forklift safely and effectively.
Q: Can Moffett forklifts be used in extreme weather conditions?
A: Yes, Moffett forklifts are designed to operate in a wide range of weather conditions, including extreme temperatures and precipitation. However, it's important to follow proper safety protocols and maintenance procedures to ensure safe and effective operation in these conditions.
Q: How often do Moffett forklifts require maintenance?
A: Moffett forklifts require regular maintenance to ensure safe and effective operation. The frequency of maintenance depends on factors such as usage, operating conditions, and the specific model. It's important to follow the manufacturer's recommended maintenance schedule and to perform routine inspections and repairs as needed.
WHY CHOOSE US?
Full Parts and Service Shop
State of the Art Paint Shop
Body Work
Van bodies, reefer bodies, Flatbed bodies and Storage Containers available
Tuscaloosa and Jackson Locations
Ships anywhere in the United States