MOST EXTENSIVE COLLECTION OF MOFFETTS FOR SALE AT BOBBY PARK!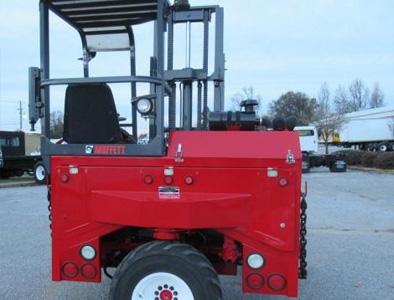 Bobby Park Truck and Equipment is one of the most reliable and popular trucks and forklifts dealership company in the southeast. It has one of the largest collections of flatbed trucks, trailers, forklifts, and Moffetts for sale at some of the market's most competitive prices. All of the equipment available at our dealership is catered towards the transportation of large-sized goods. Besides selling reliable heavy cargo carrying vehicles and load-lifting moffetts, we provide a complete range of truck spare parts. Many people looking for used trucks and forklifts within their price range find us one of the best companies as they get good-quality used trucks and forklifts close to around half the new one's price. Another advantage of coming to us is that our professionals can modify, overhaul, and repair any truck and forklift in our workshop and 6-bay body shop.
How is a Used Moffett Trucks are the Ideal Choice?
Today many people look for the used Moffett trucks for sale; the reasons for it are many. Used equipment in good condition can work almost as well, and as long as newly purchased equipment, however, the initial purchase cost is much less. Given the current pandemic, it has affected almost every industry, including transport and logistics. For this reason, companies are less willing to invest in new expensive equipment and as a replacement choose used vehicles. Also, since companies are saving, they choose combinations that would be more productive and cost less. The Moffett truck combination is cheaper than buying a conventional forklift and truck separately. The combination is versatile, given the moffet can be transported along with the truck to upload and offload cargo at the pick and drop site, respectively, if required.
All of our used Moffetts and trucks have been checked by us and our work and roadworthy. They are also reliable in terms of excellent build quality trucks. In short, a used Moffett truck will be able to use for several years before you think of considering a new overhaul. However, that depends on the initial condition and how it is used.
Benefits of Moffett Truck-Mounted Forklifts
Our entire range of Moffett-truck mounted forklifts are suitable for use on each truck and trailer. We transport them from one place to the other using a unique shock-absorbing mounting. In addition to that, our Moffett Mounty for sale stands out as the number one choice for portable trucks and trailers mounted piggyback forklifts. As you search through our inventory, you will find a tremendous collection of lightweight Moffett forklift designs that help you to
maximize short forklift
minimize truckloads
meet stringent trailer length regulations
endure hydrostatic pressure on all wheels
drive for excellent maneuverability on residential areas and industrial job sites.
Apart from the above benefits, with the help of our Moffett truck-mounted forklifts, any truck driver can unload cargo in a fast turnaround without waiting for anyone's assistance. This factor allows for better logistics and increased profitability. Some companies that regularly require this combination may include
construction companies
recycling companies
waste management companies
For many years, Bobby park is famous for selling moffetts for sale. We are glad to say that you will find the best facilities for your on-site modifications from us. For getting detailed information regarding our used model types of trucks and forklifts and Moffett truck-mounted forklifts, their specifications, and services, feel free to contact us.
WHY CHOOSE US?
Full Parts and Service Shop
State of the Art Paint Shop
Body Work
Van bodies, reefer bodies, Flatbed bodies and Storage Containers available
Tuscaloosa and Jackson Locations
Ships anywhere in the United States