USED MOFFETT FORKLIFT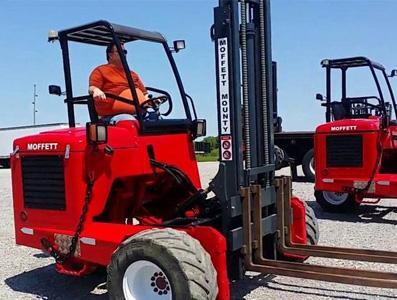 As a small business owner, every decision you make can affect the profitability and productivity of your business. While equipment such as Moffett forklifts, trucks, and cranes are an essential asset for the material handling business, they also cost a lot of money to buy. So small businesses often turn towards used equipment to meet their needs without going overboard with their budget. At Bobby Park, we understand the needs of small material handling companies, and we provide high-quality used equipment to them at a fair price. However, we often encounter customers who have heard some stereotypes and myths about used equipment. Most of these myths arise from a lack of knowledge and poor experiences with unreliable used-vehicle dealers. So if you have also heard these misconceptions and want to know the truth behind them, then we suggest you read this article until the end.
Myths about buying used Moffet forklift and other equipment debunked
At Bobby Park, we believe that used equipment can be as good as new equipment as long as you buy it after proper inspection and know the usage history. The same goes for our inventory of used moffet forklifts, cranes, trucks, and other vehicles. However, some business owners use equipment with a grain of salt due to its misconceptions. So without further ado, here are some common myths related to used equipment debunked:
Used equipment doesn't perform well: People often assume that since used equipment has been on the road for a long time, it won't perform well. When we buy used equipment, we conduct in-depth inspection and screening to ensure it has plenty of useful life left. We also replace any faulty parts before selling used equipment to make sure the equipment works perfectly. As a result, the truck-mounted forklift, crane, flatbed, or any other equipment you buy from us will be reliable and will perform nearly as well as new. So the myth about poor-performing used equipment is nothing more than a stereotype.
You won't know what you are getting: Another myth or fear, as we call it, is the fear of the unknown that customers have towards used vehicles. Most customers believe that they might end up with hidden issues when buying used equipment that will take a lot of time and money to fix. However, the truth is that used equipment dealerships such as us provide honest details about the machine's condition when selling it, so the customers know what they are buying.
Used equipment dealerships offer poor customer support: Unfortunately, due to some unreliable dealerships, customers have created an idea in their minds that all used equipment dealerships provide poor customer service. While the truth is at reputed dealerships such as us, you can get all your repairs and parts sorted under one roof. We also maintain the equipment and offer detailed inspections regularly to make sure you don't experience downtime after buying used equipment from us.
We have a flawless record of selling only the highest quality used equipment, and if you are buying from us, you can put all these myths aside and rest assured that you are getting a reliable used item. Whether you need a truck with a forklift, crane truck, trailer, or any other used piece of equipment, all you have to do is get in touch with us.
WHY CHOOSE US?
Full Parts and Service Shop
State of the Art Paint Shop
Body Work
Van bodies, reefer bodies, Flatbed bodies and Storage Containers available
Tuscaloosa and Jackson Locations
Ships anywhere in the United States