SIGNS THAT YOUR CRANE TRUCK MIGHT REQUIRE REPAIRS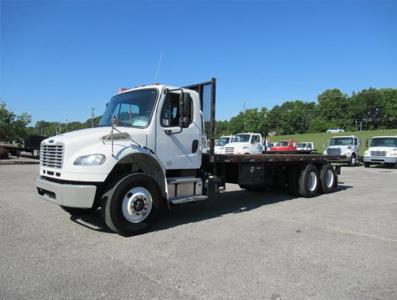 Crane trucks offer a traditional crane's lifting capacity combined with a vehicle's mobility since it is mounted on a truck. While most business owners and operators know the truck's repair needs, the crane component's repair needs are not commonly known. At Bobby Park, we sell used crane trucks and offer repair services for different equipment types. So naturally, we often get crane trucks at our service department for long-overdue repairs. Many business owners and operators that are new to crane truck ownership aren't sure about the signs they should look out for that tell it's time to get your crane truck repaired. That is why our team has put together this article; it will help you understand when to get your crane truck repaired, so read on.
How to tell your crane truck needs repairs? (A guide by Bobby Park the truck professionals)
While our trained experts at Bobby Park can inspect and diagnose issues with your crane truck within no time, it pays to know signs for when a crane truck needs repairs. As mentioned above, since it is easy to detect the truck parts' issues, we will be focusing on the signs that tell you when to repair the crane of your crane truck. With that being said, here are some signs that can help you in telling when your crane truck needs repairs:
Worn stability pads: Stability pads are important for your crane truck's operation because they help keep the heavy-duty vehicle planted to the ground during lifting. Depending upon the type of crane truck and your crane truck's size, it might have a varying number of pads. For example, the number of pads that small crane trucks we have for sale will be fewer compared to larger crane trucks. If the stability pads are worn out, your crane won't be as stable and might not lift weights properly. So, if you notice that your crane truck's pads aren't operating properly, replace them immediately.
Rusted parts: Rust is metal's worst enemy, and while crane trucks don't rust easily, some parts can end up catching rust, and these parts include joints, bolts, and bearings; they can sometimes involve the structure of the crane. While some rust can be repaired easily; however, if the rust is significant and jeopardizes the frame of your crane truck, it would be best to replace it with a used crane truck such as this 2003 MACK CV713 that we have in our inventory. Crane trucks in our list are inspected for mechanical and cosmetic issues, and they are free from problems such as rust which can weaken your crane's structure over time.
Broken or damaged chains: Your crane can have multiple chains used to lift and move a load, and over time, these chains can get damaged. Damaged or worn chains are a major issue, and if you see any cracks or deformation in your crane truck's chain, you should get the chain repaired as soon as possible.
We understand that you wouldn't want your crane truck to be parked in the truck parking lot waiting for repairs. That is why our trained technicians can repair your crane truck in no time; all you have to do is get in touch with us, and we'll assist you.
WHY CHOOSE US?
Full Parts and Service Shop
State of the Art Paint Shop
Body Work
Van bodies, reefer bodies, Flatbed bodies and Storage Containers available
Tuscaloosa and Jackson Locations
Ships anywhere in the United States