STURDY MOFFETT FORKLIFTS FOR SALE WITH RELIABLE SERVICE AND MAINTENANCE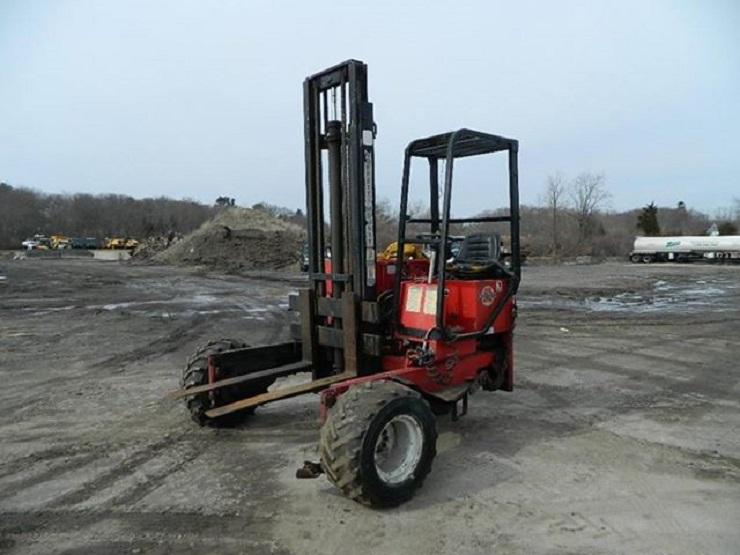 Bobby Park is a heavy-duty vehicle dealership that has been in service with its clients for more than fifty years. Since our establishment, we are committed to professionalism and providing a quality customer experience. Our moffett forklifts for sale are sound and reliable in every way. Whether you are looking for indoor use or for outdoor, our smart wheeled genies are the best options for both. Not just this, we also provide after-sales service and repair for any type of truck and forklifts. Our technicians have years of experience in heavy-duty vehicle repair. Their expertise has turned them into a friendly repair team, which makes this huge job quite easy for you.
Moffett Forklift Service and parts
Our moffett forklifts for sale come with reliable service, parts, and maintenance solutions. Our service team has in-depth knowledge about these vehicles' technicalities, wear, and tear, and breakdown. It enables them to mend these machines within hours. They are a group of well-trained and courteous men, who handle every repair deal with care. It is because their extensive training program includes caring for vehicles as well as understanding the customers' problems. Here are some of our service and repair features that make us stand tall among our competitors.
Multiple Repair Solutions
We are one of those dealerships in Tuscaloosa, which provides every sort of heavy-duty vehicle repair. Our flatbed truck with forklift has proven to be a perfect loading, unloading, and transportation solution. Such innovations also need versatile repair services; all available under a single roof and we offer that. We service any make and model trucks, forklifts, cranes, and commercial equipment. It makes things easy for the customers who own various types of heavy-duty vehicles and need to go from one workshop to another for repair work. Our One Shop Stop sales and service point proves to be a big comfort once you step in.
Heavy-Duty Vehicle Modification
Being in the heavy-duty sales and service business for ages, we have evolved into master manufacturers. Our experimenting with these giants has helped us produce smart combinations, which have made goods transportation easier for many customers. Our flatbed truck with a forklift is an example of it, which helps in saving time and labor. Our years of experience have enabled us for making any sort of vehicle modifications, based on business needs. With fine metalworking, we lengthen and shorten any sort of truck body. We also add any required body parts and remove the ones that you want.
Repair and Installation of Trucking Accessories
We sell all types of trucking accessories and provide their repair solutions as well. If you want to install lift gates, tow bars, or any other tool in your truck, we provide that service. Our workshop offers all types of moffett Forklift parts. If any part of your vehicle needs repair or needs to be replaced, our dealership is the right destination for you. We are a trustworthy team of technicians, who have been taking countless broken-down vehicles back on track. We are an authentic dealership, which offers guaranteed parts and accessories.
Customized Body and Paint Work
Along with flatbed trucks with forklifts, we also offer extensive customizing solutions for trucks and trailers. Every business needs different types of loading and transportation vehicles and we know that. Just let us know your requirements and we will suggest the right customization for your vehicle. This is not something new to us, we have been providing our paint and bodywork expertise for the past two decades.
Compatible Service and Maintenance
We understand how much loss a business suffers if it's all about loading and transportation of goods and materials. This is why our service and repair department works on proactive bases. Our dealership offers all make and model parts and if you are looking for any like Moffit forklift parts, Toyota Truck parts, or any other mounted truck part, just make us a phone call. We arrange for that particular part before your arrival and start repair work as soon as you drive in.
D.O.T Inspection Service
The US Department of Transportation (DOT) keeps a sound check on vehicle roadworthiness. The parts of heavy-duty commercial motor vehicles are checked for ensuring road safety. Bobby Park offers this inspection service for all types of trucks. Our inspection team closely examines your truck regarding engine condition, bodywork, and wheel and suspension. You can trust our inspection, as we are experts in maintaining heavy-duty vehicles for years.
FAQs
Do you provide service to a broken-down vehicle at the owner's place?
We offer all types of service solutions. Just make us a phone call and we will let you know if the vehicle can be serviced at your place or if it needs to be lifted to our workshop.
What are your charges for the DOT inspection service?
The DOT inspection cost for most of the vehicles is around $35. It varies depending on inspection type. DOT inspection for commercial vehicles usually has little high charge.
What is the most common DOT inspection?
Level I inspections are the most common DOT inspections, which comprise inspection of important documents like Commercial Driver's License (CDL).
WHY CHOOSE US?
Full Parts and Service Shop
State of the Art Paint Shop
Body Work
Van bodies, reefer bodies, Flatbed bodies and Storage Containers available
Tuscaloosa and Jackson Locations
Ships anywhere in the United States