TESTING AND UTILIZING USED MOFFETT FORKLIFT IN THE BEST FORM!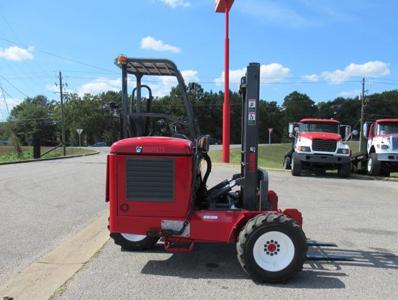 As it is rightly said, that technology has created numerous wonders in the life of human beings. In the past, there were no trucks for carrying large-sized goods from one place to the other. With time, the transportation industry flourished, and today it is assumed to be one of the most important and extensive sectors. This industry is currently running based on a wide variety of flatbed trucks, trailers, Moffett or piggyback forklifts, beverage trucks, cranes, and many other equipment types. Together they are used for loading and unloading different commodities from one place to the other. Earlier, the human workforce and beasts of burden got utilized for this hard work, which took a lot of time and effort. Later the invention of forklifts prevailed in this industry and made transportation very quick and hassle-free by enhancing efficiency and boosting productivity. Before you intend to buy any forklift, you must know all the different types of forklifts and your transportation needs. Among those several types, used Moffett forklifts are the best one as they are light in weight and easily lift heavy-weight goods. You can easily buy them from any reliable company like Bobby Park Truck and Equipment at the most reasonable Moffett prices.
Testing Used Moffett Forklift Before Use
After buying any forklift from a trustworthy place, the second necessary thing is its checking. Before utilizing it in your transportation works, check properly every part of your used Moffett forklift for complete safety and excellent results. You can have several devices and tools from the market to check your vehicle entirely for absolute satisfaction. Moreover, there are services, including our own, that can help you test the forklift and its performance. The following are some of the essential things to be examined:
Inspection of its battery
Oil quality and quantity testing
Monitoring the engine
Checking and replacing worn-out tires
Audit of carriage, fork, and mast parts.
In addition to these inspections, keeping your Moffett forklift in the best form by proper maintenance will help to ensure the reduction of its wear and tear conditions. It will also help you to avoid any form of stress either on the transmission or driver of your forklift.
Least Moffett Prices at Bobby Park Truck and Equipment
Generally, Moffett and flatbed trucks are famous for holding their real value in the transportation industry. However, as everything changes with time, these trucks' worth also decreases as years pass by. As a warehouse manager or owner, we at Bobby Park completely understand your extensive needs in the limited funds. So, we offer you a complete range of previously used trucks and forklifts. The benefit of buying a used Moffett truck for sale is that you can save a significant portion of your money by getting it at almost half the price compared to a new one. Moreover, the professionals of our company offer the best facilities for on-site modifications according to your needs. For detailed information about our model types and their specifications and services, feel free to contact us.
WHY CHOOSE US?
Full Parts and Service Shop
State of the Art Paint Shop
Body Work
Van bodies, reefer bodies, Flatbed bodies and Storage Containers available
Tuscaloosa and Jackson Locations
Ships anywhere in the United States