THE ELEMENTS OF MOFFETT EQUIPMENT SAFETY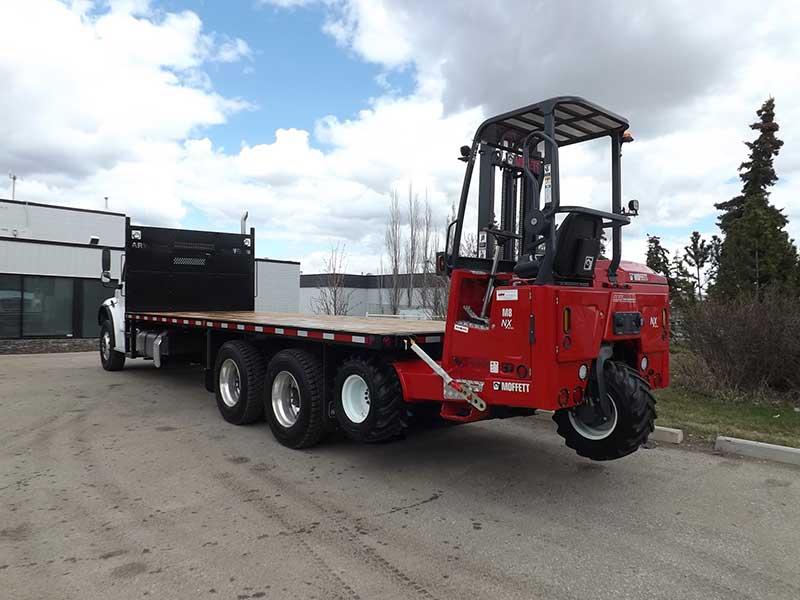 For most people who specialize in warehouse operations or construction related sites, operating a lift truck is a serious business. These are heavy-duty vehicles and meeting with accidents can be something quite deadly. To avoid the risks of possible accidents, serious injury, or death, operators must receive certification to prove they have skills and a clear understanding of the machinery.
At Bobby Park Truck & Equipment, we have so many used Moffett for sale. When operators come to us to select one for their warehouse operations, we often recommend that they follow the right guidelines that come with these vehicles. Keep in mind that safety is the main factor in forklift training, but other topics also include driving safety, triangle stability, reading data plates for the machinery use, and the fulcrum point.
Safety Training
OSHA estimates that about 35,000 serious injuries result annually and 62,000 are the non-serious ones that involve forklift operations. In addition to this, the Bureau of Labor's statistics reports that as much as 96 thousand U.S workers usually are involved in accidents involving operating forklifts.
According to some safety guides, workers who do not any form of training or knowledge of how the machinery operates or how to maneuver it has higher chances of encountering injuries or even resulting to death from accidents. OSHA establishes that employers must always ensure they have certified operators. This ensures that the person has enough experience, skills, and knowledge on how to operate the machine, hence reducing the risks of accidents and ensuring safety.
Routine Inspection
We also advise that operators should first inspect the forklift before they use it for any jobs. Before any job, it is advisable that you check the items that need any monitoring when the engine is not running. Other items to check include the seat belts, tires, brakes, backup alarms, the fluid levels, horn, the load supports, and all moving parts of the truck.
Operators should issue citations to their companies, who neglect to maintain the forklifts in the right working order. In addition, discuss all areas of code violations and employers need to know exactly how they will fail if they do not comply with the right safety regulations.
Know the Machinery and Rules
The national Councils program for industrial or rough terrain truck operators includes some safety discussions that sound elementary to most operators. However, it is imperative to promote worker, driver, and bystander safety. The very first steps to ensuring safety while operating are to know the machinery, including points like:
It is an open structure, and the driver will not be in an enclosure
The truck's weight could range from 9,000-30,000 with the rough terrain ones with heavier ends
Three-point suspension
The speeds need to be less than 20mph
The tighter the turning radius for tight spot operations
If the load is more than the weight of the lift truck, it can topple over.
When operating Moffett, it is wise to wear seat belts during the entire time. If you neglect this, you can encounter serious injuries. Operators need to be aware of the surroundings, the load they want to carry and visibly even when operating at night.
For further advice on how to operate a Moffett, you can always get in touch with us at Bobby Park.
WHY CHOOSE US?
Full Parts and Service Shop
State of the Art Paint Shop
Body Work
Van bodies, reefer bodies, Flatbed bodies and Storage Containers available
Tuscaloosa and Jackson Locations
Ships anywhere in the United States