THE FLATBED TRUCK AND MOFFETT A COMBINATION MADE IN LOGISTICS HEAVEN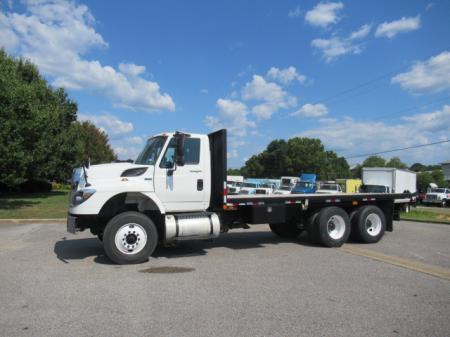 The transportation industry is flourishing day by day with the increase in trading. Traders send and receive goods from their business from far off places to run their business. These goods may be either small, large, expensive, delicate, space-consuming, or of any other type. For secure transportation, a variety of products, a large number of transportation services and vehicles are required. Flatbed trucks and moffett are the best examples of one such combination of transport vehicles. Today there are many companies like Bobby Park Truck and Equipment which sell heavy-duty vehicles and forklifts that provide such transportation services.
Flatbed Truck for Sale
Flatbed Truck is defined as a truck that carries a flat trailer. It is the most commonly used type of oddly shaped cargo which is used to transport oversized and heavyweights. As the name of Flatbed truck suggests, the structural body of this truck is entirely flat with no sides or roof making it like a level bed. This heavy loader truck, also known as a flatbed pickup truck, allows for easy and quick loading of goods and heavy loads that are not affected by rain or are not delicate. They are also used for the transportation of loading goods that are difficult to fit in closed bodied transportation carriers. Many companies are providing Flatbed Truck for sale, but you can find the most reasonable rates of it at Bobby Park Truck and Equipment company.
Dimensions of Flatbed Pickup Truck
Flatbed Trucks vary in sizes according to the cab and engine of the truck, but its tow remains the same in all sizes. This tow is the part of the truck that acts as a bed for this large cargo. However, some basic dimensions of Flatbed Trucks are
Length: 48' – 52' long
Width: 8' 6"
Height: 5.'
Load Height: 8' 6"
Total Height Limit with Cargo: 13' 6"
Flatbed Truck weight limit: 80,000 pounds
Benefits of Flatbed Truck
Flatbed Truck shipping allows people to transport whatever they want in bulk amounts. It is a very versatile and valuable transport carrier and admired highly because of its simple design. It can easily carry oddly shaped items, oversized products, or things that need to be securely strapped. Some of its common uses include
Moving Building Materials
Moving Heavy Equipment
Scrap Metal Removal
Transporting Tire Bales
Shipping Super Sacks
Tow Trucks
Logging Trucks
Moffett for Sale
Moffett is another type of forklift that is used for transferring loads around warehouse facilities. Their remarkable feature is that they can move on hard-standing roughly paved surfaces and can face harsh off-road conditions. Their innovative designs are meant to be such that a Moffett can be easily carried anywhere, consuming very little space on the back of any large truck. A moffett that is mounted on a truck is regarded as the ideal productivity tool that offers much versatility, profitability, precision as well as more competitive edge as compared to individual forklifts and trucks.
Benefits of the Moffett
Moffett's can be attached to a range of trucks but are best paired with flatbeds. Some of their beneficial uses are
Recycling
Industrial Gas / LPG
Distribution
Agriculture
Beverage
Defense
Bobby Park Truck and Equipment offers brand new Moffett for sale at the most reasonable prices. Used 2019 Moffett for sale are also available there for those who can't afford new ones.
Bobby Park Truck and Equipment
Bobby Park Truck and Equipment is regarded as one of the largest and highly popular truck and forklift seller. We have a complete truck servicing center that allows them to modify, overhaul any type of heavy-duty vehicle and forklift. We also install Moffett kits so that a piggyback forklift can be attached to a truck. Our company offers brand new as well as used trucks at reasonable prices. We not only specialize in selling these powerful vehicles but also provide professional staff who repair, service and overhaul the machinery. We also offer spare parts for various forklifts and trucks.
WHY CHOOSE US?
Full Parts and Service Shop
State of the Art Paint Shop
Body Work
Van bodies, reefer bodies, Flatbed bodies and Storage Containers available
Tuscaloosa and Jackson Locations
Ships anywhere in the United States