USED MOFFETT TRUCK FOR SALE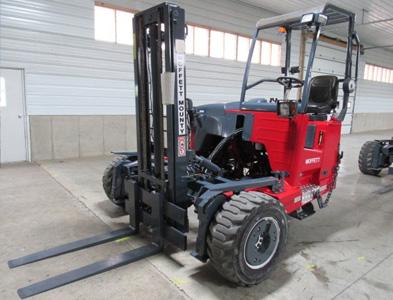 A Moffett truck is a must-have vehicle if you want to transport your forklift without worrying about damaging it. Besides, a Moffett truck is going to offer more than just transporting the forklift. You can move goods and equipment within the site or between different locations since these trucks provide plenty of loading space. However, buying a new truck and modifying it to be able to mount a piggyback forklift can not only cost a lot of money, but it can take time. That is why at Bobby Park,you get the option to buy used trucks that are in good condition. Not to mention the moffett trucks in our inventory will cost a lot less compared to a brand new one, so they fall into the budget of most small to medium businesses. With that being said, many business owners aren't sure how to find and buy a high-quality used truck. And this article will help you understand the Moffett truck searching and buying process, so read on.
How Can you Find a Good Quality Used Moffett Truck for Sale?
The first step in the used Moffett truck buying process is looking for a used truck for sale in good condition. While a simple Google search can bring tons of Moffett truck for sale advertisements, it is rare to come across reliable information. The seller's credibility is an essential factor to consider when buying a used truck or any other piece of equipment. That is why truck experts recommend purchasing a moffett truck from a reputed dealership such as us. We have been providing high-quality used equipment to businesses since 1972, and during this time, we have built a reputation of credibility and reliability. So when you are buying a used Moffett truck from us, you can rest assured that you are getting reliable equipment that our experts have tested. With that being said, if you already have a truck that you want to convert into a moffett carrier, you can always bring the truck to our shop, and our team can modify it.
Properly Inspecting a Moffett Truck
Once you have found a used Moffett truck for sale, you will have to inspect it to make sure it checks all the boxes of reliability, efficiency, and safety. Some critical components of a used truck inspection checklist include:
Inspect the Moffett mounting system: A piggyback forklift truck has a mounting mechanism at its back that allows for safe mounting and transportation of the forklift. When you buy a used truck, make sure that all the hinges, chains, and any other locking parts aren't worn out and are locking correctly in their place.
Wheels pads: Some trucks contain wheel pads to support the weight of the forklift, and these pads often get worn out due to the load they have to bear. Therefore it is essential to make sure the wheel pads are in good condition when buying a used truck.
Apart from these critical components, you also have to inspect other mechanical parts of a used truck before buying it. To avoid the time-consuming inspection process, you can always visit our website and find pre-inspected Moffett trucks for sale.
WHY CHOOSE US?
Full Parts and Service Shop
State of the Art Paint Shop
Body Work
Van bodies, reefer bodies, Flatbed bodies and Storage Containers available
Tuscaloosa and Jackson Locations
Ships anywhere in the United States