THINGS TO KEEP IN MIND WHILE SHOPPING FOR USED CRANE TRUCKS FOR SALE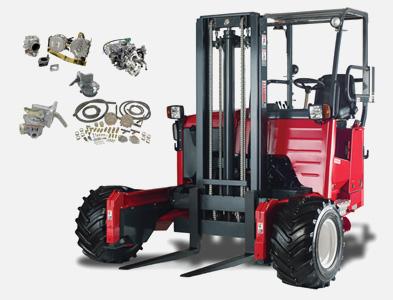 Crane trucks have proven their usefulness in various industrial and on-site applications. It doesn't come as a surprise that businesses that have to handle heavy loads demand the portability and high lifting capacity that crane trucks offer. However, while buying a brand new crane truck might be costly for most medium and small businesses, a used crane truck provides the same lifting capacity at a lower cost. At Bobby Park, we have used equipment for sale, and crane trucks are one of them. However, since business owners don't buy a crane truck that often, they might unsure what to look for when buying a used crane truck. While we thoroughly guide customers about the piece of equipment they are about to buy, many people out there are unsure what things to consider when purchasing a used crane truck. This is why in this article we will tell you about what things you should keep in your mind when you go shopping for a used crane truck.
Types of Used Crane Trucks You can Find for Sale
When you look for a used crane truck for sale online or at a dealership such as ours, you will have to choose between different types of crane trucks. The different types of used crane trucks you can buy and their features are as follows:
Truck-mounted cranes: These are the most common types of truck-mounted cranes you can buy. These truck-mounted cranes have a conveyor/crane, and since it is fitted on top of a truck, it can be moved anywhere the crane is needed. One such example of a used truck mounted crane in good condition at Bobby Park is a 2005 International 7400 truck with a conveyor that can be removed if needed.
Knuckle boom cranes: Knuckle boom crane trucks are another popular type of crane truck you will find for sale all over the internet and dealerships. The crane on these trucks can either be extended on folded down depending on the need, which leaves room for storage on the truck's bed. This crane's multiple joint design allows the operator to maneuver the crane even in tight spaces, and handling the load becomes a lot easier.
You can pick the type of crane truck you need depending upon your usage scenario and requirements. We are always happy to answer any questions you might have about the different equipment we have for sale at our dealership. If you are not sure what type of crane truck would be better suited for your business, we might suggest an option for you.
Your Lifting Requirements (Lifting Heavy vs. Lifting Higher)
The next thing you need to consider when buying a truck-mounted crane is whether you need to lift weight higher or need a heavy lifting capacity. While boom trucks with their multi-jointed crane can lift a weight higher, they can't lift heavier weights. On the other hand, truck-mounted cranes have higher lifting capacity, but they can't lift the weight higher. So you will have to consider your lifting needs when buying a used crane truck.
Tired of looking online for "used crane truck for sale near me" but can't find a good option? Just give us a call at (205) 377-6886, and we will help you find a suitable piece of equipment for you.
WHY CHOOSE US?
Full Parts and Service Shop
State of the Art Paint Shop
Body Work
Van bodies, reefer bodies, Flatbed bodies and Storage Containers available
Tuscaloosa and Jackson Locations
Ships anywhere in the United States