THINGS TO LOOK FOR WHEN BUYING A USED MOFFETT FORKLIFT FOR SALE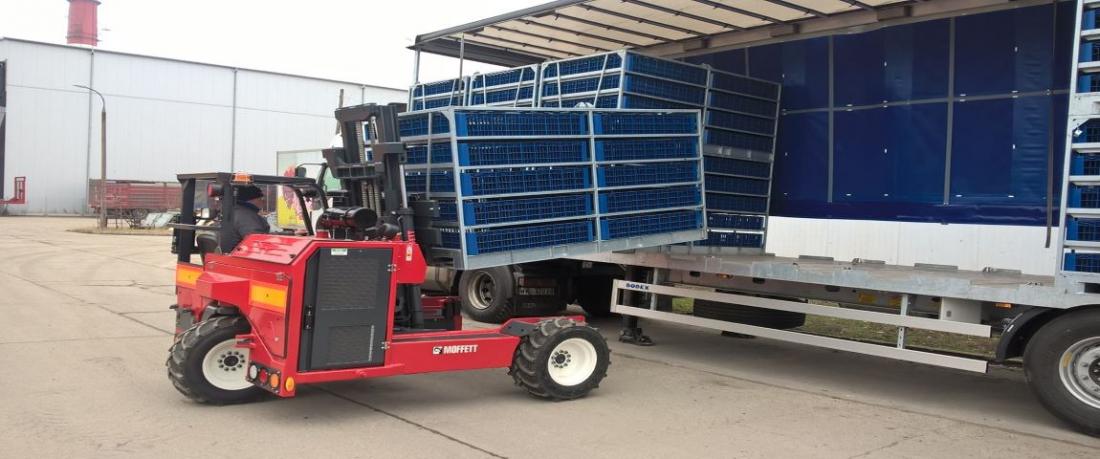 Buying a reliable piece of used equipment is a challenge sometimes because there are a lot of factors you need to consider. That is because a pre-owned machine is not new. So, the things you have to take into account when buying a used Moffett forklift for sale may include checking for any damage, its make and model, the way it was used, and the maintenance records, to mention a few. Considering these points can ensure that you get a durable and reliable piece of equipment to add to your fleet. We'll discuss these factors in detail in this article, so please read it till the end to get some valuable information and make an informed decision.
It is a common perception that most dealers providing you with used forklifts are not trustworthy because the machines they provide don't last long. However, Bobby Park is the exception, and they can prove to be your one-stop-shop for all the types of forklifts you need. They ensure to provide you with properly maintained and thoroughly inspected equipment.
Let's look at the factors you need to consider when buying these used machines.
Factors to Consider When Buying a Used Moffet Forklift for Sale
Age of the Equipment
When buying a used forklift, its age should be one of your major considerations; it should serve its purpose for years if well maintained and handled carefully. The market value also goes down, meaning the older the machine, the less its price. So, if you're looking for a long-term investment, you should avoid buying a used flatbed truck with a forklift more than five years old.
The Make and Model
One of the most significant factors of your purchase is the make and model of the forklift you're buying. Different manufacturers make these pieces of equipment with their unique features. The same goes for aftermarket machinery that replaces specific makes or models.
Buying an obsolete version means it is difficult to find replacement parts when needed. Besides, you won't get the same service and warranty packages available for current models. You can ask your dealer, such as Bobby Park, about these issues before purchasing.
The Condition of the Forklift
The condition of the equipment you're buying is another factor that needs consideration. Forklifts are machines, and they can malfunction. If it doesn't work properly, it is useless. If you're buying a used piece online, you should ask for detailed pictures and technical specifications to ensure it is in good condition and working order before purchasing it.
The Way It Was Used
The way a machine was used by its previous owners determines how long it can serve you. Forklifts that move heavy materials, like concrete blocks and huge steel beams, will work hard and may incur more damage, even though they're made tough. The pieces of equipment used 24/7 for shifting heavy pallets around warehouses or factories will not last long if they're not maintained properly.
The Maintenance Record
The maintenance record of a Moffett forklift for sale is another factor you should consider before buying it. These machines require proper care and attention to keep them in top condition to serve their purpose well. A good machine will have good records of regular maintenance by the previous owner or dealer. The machine's service history is an important factor affecting its resale value. So, you should check the maintenance records before purchasing it.
These are some important things you need to consider when you plan on buying a used forklift. If you have any questions about these machines and how to buy durable ones, we suggest you get in touch with Bobby Park at (205) 377-6886 to get all the answers and forklifts you need for heavy-duty industrial work.
We have also created a list of some commonly asked questions. Kindly read them to get some valuable information about the topic discussed above.
Frequently Asked Questions
Which forklift brand is the best?
Hiab can be considered the best brand as they're the pioneers of Moffett forklifts, so if you find one for sale, we suggest you go for it. Hiab's piggyback forklifts are known as one of the most valuable and reliable lifters across all industries.
How do you use a Moffett forklift?
A Moffett forklift is used by driving it into the desired location and positioning the forks to lift the object. The machine is then driven away with the object in tow. There's a complete mechanism to use and operate the machine, and you need a certification to be a forklift certified driver.
Can a Moffett drive sideways?
No, Moffett forklifts can only move forward and backward. It is driven like a normal vehicle, and its wheels don't take a 180-degree turn to make the machine drive sideways.
WHY CHOOSE US?
Full Parts and Service Shop
State of the Art Paint Shop
Body Work
Van bodies, reefer bodies, Flatbed bodies and Storage Containers available
Tuscaloosa and Jackson Locations
Ships anywhere in the United States