TOP REASONS TO BUY USED MOFFETT FORKLIFT PARTS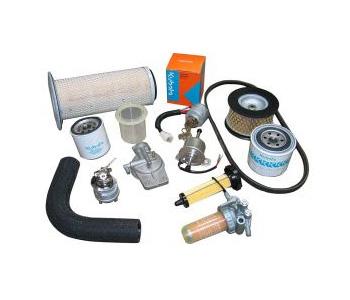 Moffett forklifts have always been made to carry out the heavy-duty industrial workload, which is why they're made to be more rigid, robust, and powerful. Despite their ruggedness, they may also break at some point in time, and you may need to replace the Moffett forklift parts. There are countless vendors in the market offering you new spare parts for these machines. However, we suggest you buy used and refurbished ones because they are as efficient as the new ones. There are several benefits of purchasing the reconditioned ones, such as lower prices and decreased risk of value depreciation. These advantages should especially be considered when you run a small business and don't have enough resources to buy brand-new spare parts. This blog will discuss some of those positives in detail.
The Benefits of Buying a Used Moffett Forklift Parts
Cost-effectiveness
The most obvious and noteworthy benefit of buying any second-hand industrial machinery or spare parts is that they're available at a lower price than the new ones. Though they're used, mostly they're available in an excellent working condition, and are mostly refurbished before they're up for sale. So, there are no significant issues with these items when you buy one. It is suggested to buy reconditioned equipment because all the wear and tear is already dealt with, and everything is available in near-perfect running condition.
You can buy a flatbed truck with forklift and its spare parts from several sellers in the US, but Bobby Park Truck & Equipment can be your ultimate option if you want to buy any used or new equipment.
Increased Buying Power
With reduced price, used and refurbished equipment increases your buying capacity. They're primarily available for one-third of the cost. It means that you can buy three used items for the price of one brand-new. Increased buying power allows adding more valuable equipment to the workplace. More spare parts readily available at hand means you can replace them the moment something in the forklift breaks, saving you a lot of time.
Tested for Durability and Reliability
Used items are already tested for reliability and durability as they have been used for quite some time as parts of industrial machinery. If they were broken, they wouldn't have been in the market for sale for a second time. There is no need to try this equipment for relaiabilty and durability and waste precious time on this process. They had been handling loads of work previously and dealt with it efficiently, which is why they're still in the market for you to use them again.
Lower Risk of Value Depreciation
Buying used Moffett forklift parts also benefits you by having the same market value even after months of usage. Whenever you purchase new equipment, there is always a risk of price and value depreciation because it isn't brand-new anymore after you unpack it. Meanwhile, the value of the used tools stays intact because they're tested to be reliable and productive for as long as they live.
These are some of the benefits you get when you buy used tools that work like new ones. There are countless dealers with forklifts and their spare parts for sale, and Bobby Park Truck & Equipment is one of the few you can rely on to strike a value-for-money deal.
We have compiled a list of questions customers frequently ask. Their answers will provide some additional information to you. So we suggest you keep reading.
FAQs
What type of forklift is a Moffett?
Moffett is a flatbed truck with forklift mounted on it. It is designed and made to carry out industrial tasks that require heavy lifting. Standard forklifts can't handle the workload and weight that these machines lift.
How much can a Moffett forklift lift?
This industrial machinery is made for heavy-duty tasks that smaller forklifts can't handle. The Moffett forklift parts are made to withstand extraordinary loads and can lift upto 3500 kilograms of weight at once.
How long does a Moffett License last?
There is a course that you need to take to get the license to operate a Moffett forklift. The permit lasts for five years, but you need to take a refresher course after four years of getting one. This makes the license renewal process quick and easy.
WHY CHOOSE US?
Full Parts and Service Shop
State of the Art Paint Shop
Body Work
Van bodies, reefer bodies, Flatbed bodies and Storage Containers available
Tuscaloosa and Jackson Locations
Ships anywhere in the United States