USEFUL TIPS ON BUYING USED FORKLIFT FOR SALE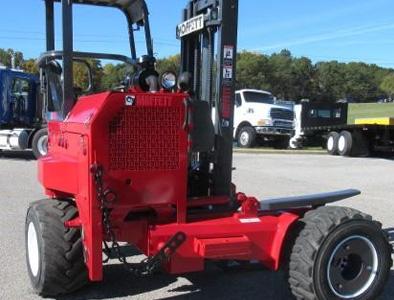 In the freight industry, the most important aspect to consider is to apply controls, which makes the mode of transportation smooth. Different controls might include monitoring the wear-house properly. Without proper transportation, it would be impossible to deliver the goods on time. People use different types of trucks for various types of products.
Freight industry consists of many troublesome situations due to which it is important to regulate the supply chain management.
Let us discuss how people move goods from one place to another:
Bring the truck at the shipper
The first step in the transportation of goods is to bring the truck at the shipper on time. Once the truck arrives, the truck driver needs to determine if a forklift the right ones for loading the goods onto the truck. If you are looking for used forklifts for sale, you should be aware of the type of the forklift to use for a certain type of truck.
Loading goods by using drop and hook technique
Drop and hook technique is the best way for a truck driver to drop a trailer and wait for the goods to get loaded into it. Used forklifts for sale are available in the market for truck drivers to purchase for loading goods in a timely manner.
Ensure the availability of right types of forklifts
The warehouse manager is responsible to ensure the smooth process of loading and unloading of goods. To make sure that the goods are timely unloaded enough number of forklifts should be available. Managers can find used forklifts for sale at Bobby Park Truck and Equipment.
Arriving at the consignee
Once the truck driver arrives at the consignee, he is supposed to ensure that the goods available in the truck are timely and safely unloaded. To make sure that one follows this process in a timely manner a truck driver needs to place the commodity on the forklifts in a secure way. If the goods sustain damages while unloading it might cause the shipper to pay more money for the loss incurred.
Know your budget
Before purchasing a used forklift for sale consider your budget and ensure the quality of the product. Various types of forklifts include full ac system forklift, four-wheel forklift, three-wheel forklift, counter-balance forklift, and electric forklift. The modern era has revolutionized everything, including forklifts used in a warehouse.
Research on the internet as one may find various types of forklifts available in the market. If you are looking to buy used forklifts, check the forklift yourself for purchasing the right type of the product. The freight industry has created wonders by providing opportunities to various people in the market for better growth. Different types of trucks include flatbed, dry van, and reefers. Depending on the type of commodity, one needs to decide what type of truck to use if you have finally decided to purchase a forklift for yourself search well.
WHY CHOOSE US?
Full Parts and Service Shop
State of the Art Paint Shop
Body Work
Van bodies, reefer bodies, Flatbed bodies and Storage Containers available
Tuscaloosa and Jackson Locations
Ships anywhere in the United States