WHAT BENEFITS DO CRANE TRUCKS OFFER TO BUSINESSES?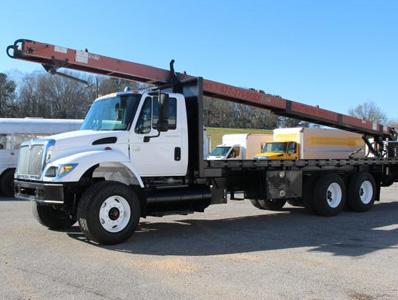 If you are a business that has to handle heavy loads at various locations, such as construction sites, your lifting needs can be simplified with the help of crane trucks. If the heaviest lifting you need to do is in tight spaces such as urban streets, a crane truck can offer the much-needed accessibility you need to operate within limited available space. At Bobby Park, we recommend crane trucks to businesses that need an instant lifting solution, to set up the crane in little to no time. However, mobility is just one benefit of crane trucks, and in this article, we will explain the key benefits of having a crane truck, so read on.
Crane Trucks Help Lower Cost (especially if you can find used crane trucks for sale)
As mentioned above, a truck-mounted crane doesn't have to be set up every time you need to move the crane to a different site. This can save the cost of laying down the foundation, moving the crane to the site on a separate truck, and then disassembling the crane to move it to a different location. You need additional staff, laborers, and tools to assemble and disassemble a crane, and all of this costs a lot of money. However, using a truck-mounted crane doesn't require all these additional costs. If you are on a tight budget, we recommend looking for used crane trucks for sale. Buying a used crane truck in good condition from us can further reduce the cost because the used crane trucks that we have for sale offer the same lifting capacity at a fraction of the cost of a new one.
You can Transport Heavy Loads Over Short Distances Without Needing Additional Trucks
If you are familiar with transporting heavy loads, you probably know that transporting material is done using separate trucks once the stationary crane has loaded the material onto the truck. However, when you have a truck-mounted crane, you can lift and move the load over short distances. This versatility allows you to use fewer trucks, especially for transporting the material around the site, saving a lot of time and resources. The used FREIGHTLINER FL70 - flatbed with crane that we have for sale even has some storage space on its bed along with the crane. So you can also load up some material on to the flatbed and transport it over long distances as well.
Less Complicated Design Means Fewer Things to Inspect
Before you start operating a crane, you have to inspect it thoroughly and look for any parts or components that might not be working correctly. Since truck-mounted cranes have a more straightforward design, you can easily spot any crane issues, making inspections easier and shorter. The replacement of components is also quicker on a truck-mounted crane; you can bring the crane truck to our shop, and we can replace the parts for you.
Whether you are looking for a knuckle boom truck for sale or a truck-mounted crane, you can visit our dealership or call us at (205) 377-6886 to know more about your options.
WHY CHOOSE US?
Full Parts and Service Shop
State of the Art Paint Shop
Body Work
Van bodies, reefer bodies, Flatbed bodies and Storage Containers available
Tuscaloosa and Jackson Locations
Ships anywhere in the United States