WHAT CRITERIA SHOULD YOU CONSIDER WHEN BUYING A MOFFETT TRUCK?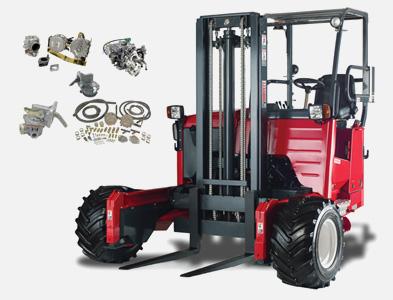 A lot of thought goes into buying a Moffett truck, and it is not something you can purchase without much consideration like most other business decisions. Especially if you are about to buy a Moffett for the first time, you should consider the type of Moffett truck you should be buying. At Bobby Park, we often get business owners who are unsure precisely what criteria they should base their purchase decision on. Once you have decided that a Moffett is something your business can benefit from, you can look into different options. In most cases, a used Moffett truck can offer a high level of reliability as long as you buy it from a reputed park such as us. Not to mention we guide our customers about what type of piggyback forklifts will be best for them. However, it is still best to know what criteria should be used when buying a Moffett truck to make a more informed buying decision. And this article is going to explain all the critical things that you should keep in mind when shopping for a Moffett.
Criteria to keep in mind when looking for a Moffet truck for sale
As mentioned earlier, buying a Moffett requires careful consideration and a lot of effort. While quality and reliability are not a concern when looking for a Moffett truck for sale at our dealership, you still have to ensure you get the right piece of equipment for your usage. Without further ado, here are some criteria you can use to choose the right Moffett:
Business Application: Every business has specific operations that it needs to take care of by buying a forklift. With different variations of Moffett trucks available in the market, you have to get one that meets your business's requirements. For example, the construction business has to lift heavy blocks, beams, slabs, and other heavy items that need decent horsepower and lifting capacity. A powerful piggyback forklift such as this 2007 Moffett M40 is ideal for lifting heavy weights and moving them over rough terrains such as construction sites. Similarly, each business needs a Moffett that suits their usage application, and this should be the number one criteria you should base your buying decision on.
Age of the Moffett: Used moffetts might not be covered under warranty, but they can still be reliable if you buy them from us since we test each machine for defects before selling it. However, the age of the Moffett should be the significant criterion that should never be ignored. The newer the Moffett is, the more mileage you can generally get out of it. So ideally you should be looking for a Moffett that is not too old, but at the same time, it shouldn't be too new because then it would cost almost the same as a new one.
The terrain you will be using your Moffett on: This will directly impact the type of Moffett that suits your needs. There are forklifts designed to be used on rough terrains and smooth terrains with special tires and suspension systems. So terrains should be a significant criterion when looking at Moffett trucks for sale.
Are you looking for a used Moffett for sale? Just visit our website and find one you like.
WHY CHOOSE US?
Full Parts and Service Shop
State of the Art Paint Shop
Body Work
Van bodies, reefer bodies, Flatbed bodies and Storage Containers available
Tuscaloosa and Jackson Locations
Ships anywhere in the United States