WHY IT IS A GOOD IDEA TO BUY A USED MOFFETT TRUCK TO TRANSPORT YOUR FORKLIFT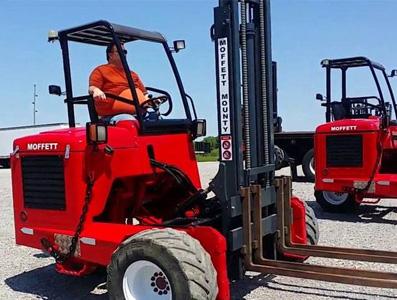 If you own a piggyback forklift and you don't have a moffett truck or your old truck is not reliable anymore then you aren't using your forklift to its full potential. moffetts are lightweight yet strong pieces of equipment that can handle almost every kind of heavy lifting that a regular forklift can while being easily transportable. However, to transport this special forklift you need a moffett truck that has the capacity as well as the design to do so. That is why at Bobby Park we recommend people looking for a truck to transport their moffetts to go with either a flatbed or a trailer. These trucks not only can mount a moffett but their design also makes them suitable for this application. However, a lot of business owners can't buy new moffett trucks and for their businesses, a used moffett truck is a great alternative. And in this article we will explain why buying a used moffett truck is a good idea so read on.
Benefits Of Buying A Used Moffett Truck That Is Up For Sale At Our Dealership
When you consider the depreciation and the taxes that are associated with buying new trucks and equipment it makes sense why businesses look for used moffett trucks for sale. However, depreciation savings and lower taxes aren't the only benefits of buying a used moffett truck. Some benefits of buying a used forklift truck are as follows:
Lower price tag: We have moffett trucks for sale that you can buy for a fraction of the cost of a brand new flatbed. And while you have to install everything on a brand new flatbed you get all the accessories you need preinstalled on a used moffett truck including relevant mounting in some cases. So by buying a used moffett truck you can practically save thousands of dollars which you can then invest in other areas of your business.
Buying a used truck is quicker: Whether you are looking for a Moffett truck for sale or any other used equipment you can save a lot of time by buying a used piece. That is because used trucks and equipment are going to be present at our dealership and you don't have to book a truck and wait for it to be delivered. Not to mention the paperwork required for buying a used truck is a lot simpler which means you can drive away with a used moffett truck that ready to serve your business in a matter of hours.
Your used truck will hold value: When you buy a new truck you start losing money in form of depreciation the moment you start it for the first time. However, that is not the case with a used moffett truck. Used moffett trucks have already depreciated and lost the monitory value when the previous owner bought them. So when you buy a forklift truck not only are you getting a truck at a fraction of the cost but you can expect to sell it at a price close to what you paid for it.
So if you have been looking for new moffett trucks for sale but your budget doesn't allow you to buy a new piece of equipment then a used moffett truck is also a great option. And now that you know the benefits used moffett trucks have to offer you can get in touch with us for all your used equipment needs.
WHY CHOOSE US?
Full Parts and Service Shop
State of the Art Paint Shop
Body Work
Van bodies, reefer bodies, Flatbed bodies and Storage Containers available
Tuscaloosa and Jackson Locations
Ships anywhere in the United States