USED CRANE TRUCKS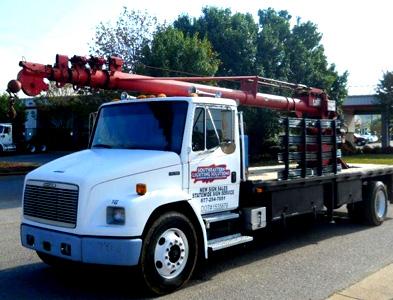 Crane trucks have always been the go-to choice for material handling businesses such as construction companies and cable installation companies. The key feature of a crane truck is that it provides businesses with the ability to lift and transport heavy items using a single piece of equipment without buying separate machines. At Bobby Park, we have experienced an increase in the demand for crane trucks due to the versatile nature of this equipment. However, many business owners still aren't aware of the benefits crane trucks have to offer for their business productivity. So to help business owners understanding why crane trucks can be a great addition to their inventory, we have created this helpful article, and we suggest you read it thoroughly.
Looking for a Used Crane Truck for Sale Can Help Save the Equipment Cost
When buying a crane truck, you are already saving money by purchasing a single piece of machinery instead of a separate crane and truck set. However, if you manage to find a used crane truck for sale in good condition, you can further reduce the cost of buying equipment and save your business a lot of money. Of course, there is a risk associated with purchasing used vehicles, especially heavy-duty equipment such as crane trucks. Therefore, buying a used crane truck from a reputed dealership such as us is a good idea. We have an inventory of pre-owned crane trucks that our experts have inspected, and most importantly, you get the trust that we have built among business owners over many decades. So by buying a used crane truck from a trusted source such as us, you will have a piece of mind that you have made a sound investment that is low cost yet reliable. However, the cost savings don't end when you have bought a used truck. Some additional ways crane trucks save cost are as follows:
Reduced labor cost by having a 2 in 1 machine
You don't have to buy special tools to assemble and disassemble a crane truck
Crane trucks allow you to move from one site to another without needing additional transport to move the crane, thus saving transport cost
Truck-mounted Cranes have a More Straightforward Design
Another reason why we recommend crane trucks for sale because they have a more straightforward design and fewer parts than a regular crane; this means you have to worry about fewer parts that need to be replaced regularly. It is easier to repair a truck-mounted crane due to its simple design, and quicker repairs mean less downtime. For a material handling business, an extended downtime for their equipment means loss of profit and reputation among clients. If your machine happens to break down, you can always count on our repair and services department to get your crane truck operational in no time. We provide parts at affordable prices, making our repair services ideal for small businesses that need to get their equipment repaired and running as soon as possible.
Now that you know why it is a good idea to have a crane truck in your inventory, you can look up a crane truck for sale near me or contact us for information about vehicles in our inventory.
WHY CHOOSE US?
Full Parts and Service Shop
State of the Art Paint Shop
Body Work
Van bodies, reefer bodies, Flatbed bodies and Storage Containers available
Tuscaloosa and Jackson Locations
Ships anywhere in the United States