MOFFETT FORKLIFTS FOR SALE, A GUIDE ON GENERAL TYPES AND USES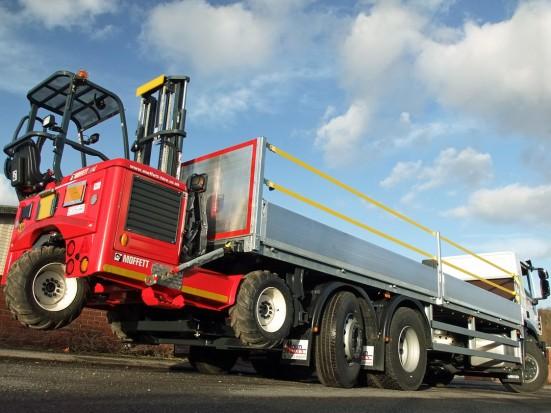 Bobby Park has been established in 1972 and provides the best quality heavy-duty vehicles to multiple businesses. Our dealership offers reliable pre-owned trucks and forklifts of well-known companies like Caterpillar, Toyota, Hyster, Moffett, and Yale. You can trust us because we have been dealing in medium and heavy-duty trucks and all types of forklifts for ages. Our dealership believes in strong customer relationships. This is why we never offer any vehicle that is not reliable regarding body and engine. We offer the best Moffett forklifts for sale which are sound in working and are also roadworthy.
Moffett Forklifts for Sale; the advantages of a flatbed truck with a forklift
Forklifts are the best work assistants in industries where heavy load transportation is every day process. These vehicles make moving, storing, and placing bulk products quite easy. You can never imagine transportation of goods within minutes, no matter how large a human workforce you involve. Whether you run a construction company, a warehouse or you need it for carrying logs, we have sturdy Moffett forklifts for sale with an additional offer of a flatbed truck with a forklift. This two-in-one offer proves to be beneficent in multiple ways. Based on your use, you can get any type of truck-mounted forklift. This smart combination gives you the comfort of loading, unloading, transportation, and placement at the same time.
Since the forklift vehicles are available in various styles and models, making the choice of purchase is a bit difficult. Here we list different types and uses of forklifts for making the purchase easy for you.
Warehouse Forklifts
This is one of the most common types that you often see working in retail stores or shopping malls. It's ideally used for transporting items to and from the delivery vehicles. This type is also great for loading and unloading pallets. These forklifts have two more subtypes, which are counterbalance forklifts and loaders. Generally, these forklifts have the capacity to lift 5,000 pounds, but some heavy-duty models can lift 25,000 pounds weight. If you are looking for such work, we have pre-used Moffett forklifts for you, and we deal in Moffett forklifts parts as well.
Telehandler Forklift
These are also called telescope forklifts or reach forklifts because of its easy access to higher places. Its arm is extendable and seems like a mix of crane and forklift. The twin forks attached to the arm are used to lift pallets from the ground. It's ideally meant for reaching out to narrow spaces and odd angles. This is why it's mostly used at construction sites. A normal telehandler has the capacity of lifting 5,500 lbs of weight up to 19 feet in height. If you own a construction company, we suggest you to purchase our flatbed truck with a forklift. It will make all material transportation very easy for you.
Read more:- STURDY MOFFETT FORKLIFTS FOR SALE WITH RELIABLE SERVICE AND MAINTENANCE
Heavy Duty Forklift
It's also called a large capacity forklift as it's used to lift heavy loads. Its features are a mix of warehouse forklift and telehandler, as it facilitates in performing both types of jobs. It's not as smart as a telehandler in reaching out narrow spaces, but it has the capacity of carrying very high loads from the ground as compared to warehouse forklifts. Its maximum capacity of carrying load is 30,000 lbs.
Rough Terrain or Straight mast Forklift
These types of forklifts are designed to work in wobble waddle types of areas. Its features make it easily execute loading and unloading in uneven areas. Its pneumatic tires are hard, oversized, and threaded which makes it easy to balance them on rough surfaces. These vehicles are best to use in outdoor rugged areas, like construction sites and cargos. Their functionality in such areas is second to none! Our flatbed truck with a forklift is also suitable for such purposes.
Walkie Stacker
These forklifts do not have cabs for the drivers, they rather have a platform for the operator to stand on and a handle to steer the vehicle. These machines are ideal for use in spaces where a taller pallet jack is required. It's not very speedy, also lacks power, but is best meant for reaching higher off the ground. It's best for maneuvering pallets to greater heights compared to a pallet jack.
Order Picker
This is a sub-type of walkie stacker that is used to load and unload materials from the storage. Its arm can reach a height of up to 32 feet. Its main function is to carry the operator to the height for lifting specific products and individual packing. They are available in various designs and can handle various items from automotive parts to furniture. These vehicles prove to be very helpful in customer order warehouses, as they are designed to pick individual units, instead of bringing down the whole pallet.
Reach Fork Truck
These forklifts are best suitable to use indoors. Their design makes them functional for the operators to reach the storage at heights. Standard forklifts do not offer such access to the storage. Moreover, its open compartment allows the operators to have clear visibility. We offer Moffet reach forklifts and Moffett forklifts for sale at Bobby Park. These vehicles are powerful and matchless in loading and unloading jobs.
WHY CHOOSE US?
Full Parts and Service Shop
State of the Art Paint Shop
Body Work
Van bodies, reefer bodies, Flatbed bodies and Storage Containers available
Tuscaloosa and Jackson Locations
Ships anywhere in the United States