THE BENEFITS OF A MOFFETT FORKLIFT FOR SALE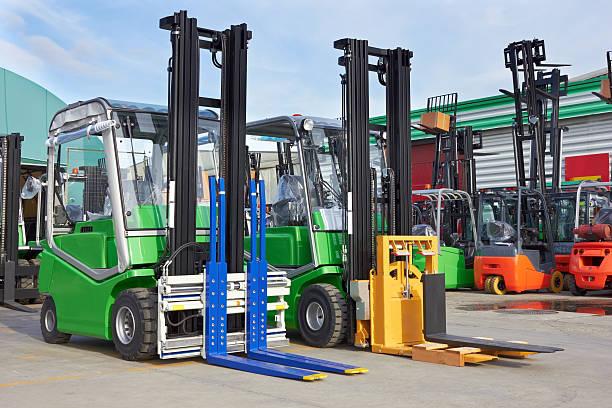 Do your employees spend time each day unloading trucks of new products? If this is the case, the Moffett forklift for sale will be invaluable to your operation. When loading and unloading large amounts of freight regularly, Moffett forklift for sale can be invaluable.
Moffett trucks are a good solution in this situation since they allow you to complete your activities more rapidly at a lower expense. In the minds of many customers, forklifts are unneeded in a retail establishment. Small businesses may not have considered a forklift because many people think of forklifts as being used in manufacturing or warehousing.
Uses For A Moffett Forklift For Sale
"Why would I ever need to attach my forklift to a truck?" you may be wondering. Piggyback forklifts can be beneficial in a variety of situations.
To begin, consider your customer's location. No, they don't have the required equipment to unload the inventory you're providing. Can you load and unload goods at this location? You can save time and money by bringing your own forklift if you don't already have one.
In the construction and landscaping industries, forklifts mounted on trailers are frequently employed. Forklift and inventory can be transported together with the use of a hitch kit.
Read more: Things You Should Know When Buying a Moffett Forklift
Why Use A Piggyback Forklift
Having a Moffett forklift for sale installed on a trailer or truck gives your business an advantage over those who don't. There are several ways to incorporate it into your price, or you might charge an additional fee for it with every purchase.
Your clients will be grateful for the extra effort you put in, and your business will benefit from the additional revenue you generate. Convenience is what customers are willing to pay extra for, and you're offering it.
This is how it would appear:
Take an hour's drive to get to the drop-off point

Unload the stock (without the help of a forklift)

Take a one-hour drive back to your workplace.

Place loads on forklift

To go back to the drop-off point, drive an hour.

Move inventory using a forklift after the forklift has been unloaded.

Return to your workplace after a one-hour detour.

This could take the better part of a day, depending on the volume of inventory being delivered.
On the other hand, piggyback forklifts can reduce this time in half. Moffett forklift for sale that is trailer mounted can also increase security. When it comes to loading, moving, and lifting your inventory, you already know exactly which forklift to use. Your clients, on the other hand, might not agree.
Benefits Of A Used Moffett Forklift For Sale
A truck-mounted forklift is what we refer to as a Moffett forklift. Stores can benefit from truck-mounted forklifts, which are small, light, and easy to use. A Moffett forklift for sale, a trailer with a mounting point, can be used to tow them.
Secure Option
Inefficient time management isn't the only issue while unloading trucks. Improper unloading practices may cause damage. Safety procedures must always be followed when loading or unloading a vehicle. Buying a Moffett forklift for sale is a safe bet because of the quality of the truck and the Moffett forklift parts.
Injury can still occur even if all safety precautions are taken. The objects that must be unloaded are usually heavy, resulting in back pain and other strains.
With their small size and lightweight, Moffett forklifts might pose a risk to the operator (or the person they are being operated by). Due to the extensive training that a forklift operator receives, the risk of this happening is greatly diminished.
Navigating Is Simple
As previously stated, the drivability of a Moffett forklift for sale is no different than that of any other truck. Forklifts are the only distinguishing feature of a Moffett vehicle. A forklift-equipped flatbed truck with a forklift can make navigating the streets a breeze.
To drive a Moffett truck, you need just meet the same standards you would have to meet to operate any other type of commercial vehicle. The Moffett forklift's mobility is a major selling point. To begin your journey, all that is required is that you mount the Moffett on the back of your truck.
Bobby Park is the only place to go whether you're looking for Moffett forklift parts, a Moffett forklift for sale, or a mounted forklift for sale.
Exceptionally Operational
There are several different sizes of high-quality Moffett trucks. These vehicles are as easy to operate as any other truck. Forklifts manufactured by Moffett forklift for sale are also nimble.
Moffett trucks for sale in the market should be practical to avoid dealing with complicated jobs. Because they are smaller and lighter than regular forklifts, they can work in tight locations. It's a forklift-equipped flatbed truck with a forklift that's a little out of the ordinary.
Small businesses without a traditional loading dock can benefit from this as well. While parking your vehicle in a gravel lot may make it more difficult to unload your cargo, a used piggyback forklift can still be of assistance.
Conclusion
Are you searching for a Moffett forklift for sale or a piggyback forklift for sale in Tuscaloosa, Alabama, and the nearby areas? Your best option is Bobby Park.
Contact us right away, and our forklift specialists will assist you in selecting the ideal trailer- or a truck-mounted forklift for your upcoming project.
WHY CHOOSE US?
Full Parts and Service Shop
State of the Art Paint Shop
Body Work
Van bodies, reefer bodies, Flatbed bodies and Storage Containers available
Tuscaloosa and Jackson Locations
Ships anywhere in the United States